Screen Savers & Recommended Links Area
Welcome to the Enterprise Technology download area, where you can always find a wide variety of complimentary screen savers. Feel free to download the freebies shown to the right ... use them for your personal desktop enjoyment, but please don't re-distribute, alter or use for commercial purposes without getting our permission first. And, naturally, we always reserve the right to decline to grant such permission.
Most of our screen savers are designed to display correctly on monitors with a set screen resolution of 800 X 600 or higher. A few, however, are designed in versions specifically intended for either 800 X600 or 1024 X 768 (or higher) resolution. If you see only a single downloadable file in any screen saver description on this page, that file will work properly with any resolution of 800 X 600 or more. Otherwise, you will notice downloads specifically for a particular resolution, and should pick the one that matches your screen setup on your computer.
Don't Want to Download?
Then Order Our CD-ROM!
Then you can order all our screen savers on a single CD, shipped directly to your door. The CD includes original and updated versions, plus all editions for all screen resolutions. With the order you will also receive automatic future notifications of all our new issues and updates! Your price is just US$8.99 per CD, with a US$2 shipping & handling charge. There is no extra shipping cost for ordering more than one CD on a single order. Order by check or money order sent to our US Mailing Address (see Contacts page) or by credit card in a secure PayPal environment, by clicking the image below:
If you would like a custom-made screensaver for your business or organization to distribute, please contact us for details on how we can work together.
All images in the screensavers and wallpaper categories were created and are copyrighted by Enterprise Technology, Inc. (except as may be noted in any particular screensaver).
Thank you for visiting this section of our site, and we hope to see you again in the near future.
Our Boise ID Screen Saver v1 received a four-star rating from ZDNet:
The Boise ID v1 Screen Saver and our Korean War 50th Anniversary v1.0 DocuSaverô were selected as Tucows', Screen Saver of the Day for July 30, 2000 (Boise ID v1), and December 10, 2000 (Korean War v1.0 DocuSaverô).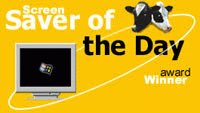 while at Nonags it received the Nonags highest rating of:

Our screen savers are also featured at the popular Freeware Home website:

Now, the Boise ID Screen Saver has been improved, with 16 additional images of the Boise area! You can download the Boise ID v1.5 Screen Saver today!
Want to see captions for all the images in the Boise ID v1.5 Screen Saver? We created a 3-page catalog of full-color thumbnails, with captions.
See the right-hand column for download info for all our screensavers and the Boise thumbnail catalog.
And don't forget to get Adobe Acrobat Reader, if you don't already have it installed on your system.
Be sure to also check out and download our newest offerings: US Battleships - The Early Years v1.0! It's specially optimized for 1024 X 768 desktops!
Also see our Worlds of Space v1.0, with 22 great images of our solar system and far beyond!
This year marks the 50th anniversary of the Korean War. In honor of those who served, we have issued a commemorative screen display of images, artifacts and information about the 1950 - 1953 conflict. There are editions for both 800 X 600 and 1024 X 768 (or higher) screen resolutions. Get the one that fits your desktop settings, and let us know what you think. We'd like to hear from you about our Korean War 50th Anniversary v1.0.

World War II/Korean War aircraft buffs will enjoy our Sky Warriors I Screen Saver, with rare manufacturer memorabilia, magazine ads, pins, and images of experimental craft from the Langley Research Center archives.


Freesaver.com has given our Sky Warriors I an 'Exceptional' rating ... Thanks for the recognition!
Fans of the 1960s and memorabilia nuts will enjoy our Sixties Junk Drawer screen saver, with a drawer-full of images of the little things in life that often went discarded! Now is your opportunity to see them once again!
Remember the old-style McDonald's drive-ins? Bewitched's Elizabeth Montgomery? The Houston Colt .45s baseball team? H. Rap Brown? See them, and a great deal more, in the Sixties Junk Drawer!
If you are someone who likes both the artistic and the automotive, check out our Blood, Sweat & Beers Volume I for a number of artful action looks at hot NHRA drag and circle action of the early 1990s. It has already received a "Best" rating by Nonags software and was the Tucows Screen Saver of the Day for 30 June 2001!
If you are a history buff and love the outdoors, you'll appreciate our visual tour of historic Idaho City, Idaho. Once the largest city in the Pacific Northwest, Idaho City was an 1860s gold rush boomtown when more than $250 million in the precious metal was mined in the Boise Basin area 40 miles northeast of Boise. Although the town went bust when the gold played out, it has managed to survive, and its 450 residents help preserve the look and feel of those heady frontier days! Download the Historic Idaho City Screen Saver v1.0, and see for yourself!
Do you like the undersea world? If so, you'll appreciate the vivid colors, patterns and textures of our Life on the Undersea Reef, v1.0. Dive into it today!
Need an education? Take a quick and colorful lesson on the architecture and places that make up the campus of the University of Idaho, in northern Idaho's Palouse region. Begun in 1889 and redesigned in 1908 by the famous Olmsted Brothers landscape architecture firm (of New York Central Park fame), Idaho's namesake institute of higher learning is now a mix of traditional and modern styles. Download our University of Idaho Screen Saver, v1.0, and hang out a while!
Do you wonder at the workmanship and art embodied in religious stained glass windows? If so, we offer you the opportunity to take a very close-up look at some beautiful examples of the European variety. Our Inspiration in Glass screen saver presents over twenty detailed views of cathedral works of art for your study and enjoyment. The colors are vivid; the images sharp. Overall, its -- well -- inspirational!
Do you like the Oregon coast? Who doesn't, after all? We've put together 26 colorful scenes of the south Oregon shore as well as a bit inland in the Coastal Range. Check out the waves, sunsets, hills and harbors of the place everyone loves to visit, in The Oregon Coast Screen Saver.
Remember the 'me' decade - the 1970s? Join us in recollecting those interesting years with a potpourri of images of celebrities, music, cars, toys, politicians and what have you. Our 1970s Junk Drawer is your ticket into this exclusive disco, baby!
If you liked out Boise ID Screen Saver you will probably want to download our new Boise Then and Now Screen Saver as well. It's a montage of colorful new images of the Boise area mixed with a slew of old Boise postcards, photos and assorted memorabilia from the recent and distant past!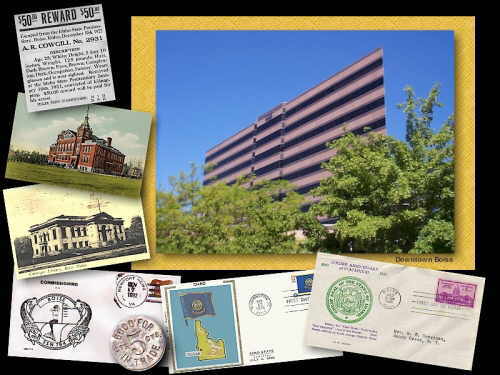 Boise Then & Now Screen Shot
If you liked our Sky Warriors I (which is a top 20 screen saver at Freesaver.com, by the way), check out our new Sky Warriors II Screensaver, with 13 sharp pages of photos, artwork, patches and medals related to the greatest of the US Air Force's lineup of modern jet and WWII-era piston powered aircraft! Aircraft included in this screensaver are Air Force-1, AWACS, A-10, F-15, F-16, F-4, A-29, B-2, KC-10, B-17, F-22 and B-24.
Were you able to make it to the March, 2002, Roadster Show at Boise, Idaho? If not, we've got the next best thing to being there. Our Roadster Show: Boise 2002 Screensaver features no less than 33 pages of the classy rods, customs, cruisers and classics that were on display from March 8th through March 10th at the Western Idaho Fairgrounds. Take a look and see what there is to gawk at west of the Mississippi! Gotta love those '50 Mercurys!
If you like ghost towns you'll love our Silver City, Idaho screen protector.
Over a mile high in the Owyhee Mountains of southwest Idaho near the Oregon border, this 1860s silver/gold-rush boomtown once boasted about 2,500 residents, dozens of stores and homes, an impressive 1892 schoolhouse and a picturesque hilltop Catholic church. Filled with colorful images of the past, Silver City, Idaho is complemented by a traditional Appalachian fiddle tune beautifully MIDI-sequenced by C. Edward Hetzler, an 'Old Time Music' specialist!
It's a long, tough trip to Silver City, with the last 23 miles across barely maintained narrow dirt roads. So why not sit back and enjoy the view from your computer monitor and save the wear and tear on your Jeep?
And while you're here, you may want to take a look at our CD Yearbook plan for schools, clubs and organizations. Just click on the Presence & Promotion link in the left-hand navigation bar, then look for the link on that page to a full-color view of sample pages we have available.
Check back often for more free downloads from Enterprise Technology, Inc.
Remember, all our screensavers can be obtained on a single CD-ROM. See above for details.
---

---
(c) 1997 - 2002
Enterprise Technology, Inc.
Boise, ID * USA
all rights reserved.

---